Gaining Ground: Leading Through Changing Times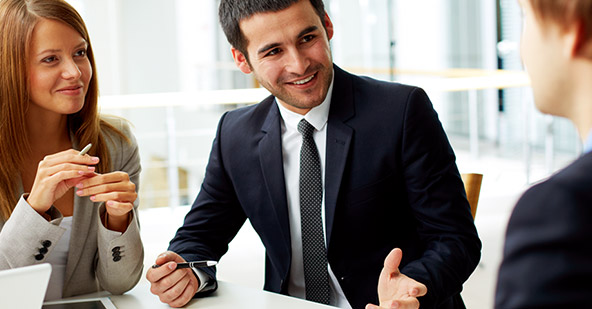 The only constant in today's workplace is change
As the workplace changes, we must learn to shift our mindsets and behaviors to match this dynamic. Five-year strategic plans are being replaced by rapid prototyping and quick delivery to the marketplace. Agility and creativity are in high demand as many organizations try to do more with less.
What keeps you up at night?
Many of us don't leave our work at the office. We carry it with us and continue to turn problems over in our mind, searching for answers. As the timeline shrinks and the stakes become higher, it becomes harder and harder to find that creative answer.
Create the space for answers
Give yourself space and time to let the information that you need come forward in order to lead more effectively. Gaining Ground is designed to help you find the answers you are searching for.
During this program, you will:
Work with a leadership coach to begin to establish your leadership vision.
Solve 1-3 critical leadership challenges with peer and coach input
(Pre-work: bring 1-3 problems you're trying to solve).
Learn about the practices of exemplary leadership.
Cultivate leadership, communication, decision making and change management practices.
Explore and understand more about your leadership style.
Learn more about the sources, signs and relief of stress.
Re-energize your leadership capacity.
Define your mission and vision.
Learn about organizational culture challenges that impact your leadership.
Pre-work is required in this program to determine your strengths and how you can utilize these strengths in the organizational culture.
Expected Results from this Program
Creation of compelling leadership vision.
Increasing emotional intelligence skills to assure you can guide a team or influence other leaders around you. Your self awareness will be increased during this program.
Increase your effectiveness with peers, direct reports and your boss by understanding your personality traits, strengths and development areas.
Learn how to create an organizational culture that will increase your success.
Program Components
This program will blend group exercises and discussions with intentional personal reflection time. It looks beyond simply increasing productivity, by taking a holistic view of leadership where the core is being clear, open, honest and authentic. It is an opportunity to re-invigorate your career by reconnecting to who you are and what really matters.
Identify and explore your values, passions, goals and vision. Use this new awareness to create a personal leadership road map.
Identify and develop the skills that lead to fulfillment and give you a distinct competitive advantage.
Remove obstacles and uncover where you are most personally powerful and compelling as a leader.
This will occur through both individual and team experiential methods.
Develop a better understanding of who you are as a leader, how others see you, and what it will take to optimize your leadership potential.
Learn to connect with others in ways that create a shared vision and energy in achieving your performance goals.
Benchmark and network with other executive leaders.
Optimize your work/life balance, develop your own emotional intelligence, and gain knowledge to make the hard decisions that will impact your future.
Who should attend
Our Gaining Ground program will bring together exceptional leaders and guide them through a transformative process. This process deepens and accelerates the growth of each leader. One of the key benefits of this program is being engaged with other talented, committed and successful leaders who will provide provocative conversations that will create new realities. These individuals are committed to being at their personal best.
This program is designed for leaders who want to:
Accelerate their careers and the results they deliver.
Re-energize themselves and create new goals.
Manage others, lead cross-functional teams, or lead significant strategic points or initiatives.
Create change in their professional and/or personal life.
Standard, Gold & Platinum Leadership Organizational Coaching Packages
Leaders who are rapidly on their way up in their organization must be ready for heavy demands—high expectations, the most challenging assignments, and the need for expertise in building effective teams within very short time frames. The follow-up leadership coaching packages give you the knowledge you need to turn these challenges into opportunities for making a significant and sustainable impact within the next 3–6 months to assure continued development.
This is a custom-built, one-on-one developmental experience for leaders who are preparing for a greater scope of responsibility or who need to make a leap forward in leadership capability.
Leadership Coaching will provide you with a discovery, alignment, assessment, feedback and action plan to create rapid results.
Best suited for leaders who:
Are working on strategic organizational projects.
Are preparing for a major step up in leadership responsibilities.
Have recently taken a new position with complex challenges.
Outcomes
Gain the self-awareness and confidence needed to take on new leadership responsibilities. Coaching sessions will challenge you to increase your emotional intelligence skills.
Improve skills by identifying and managing strengths and development needs through a 360 process.
Learn more about leadership behaviors and the impact they have on others.
Stimulate personal, career and team growth by working with an Executive Leadership Coach.
Develop a plan of action, including a set of achievable goals through individual guidance in planning and goal setting.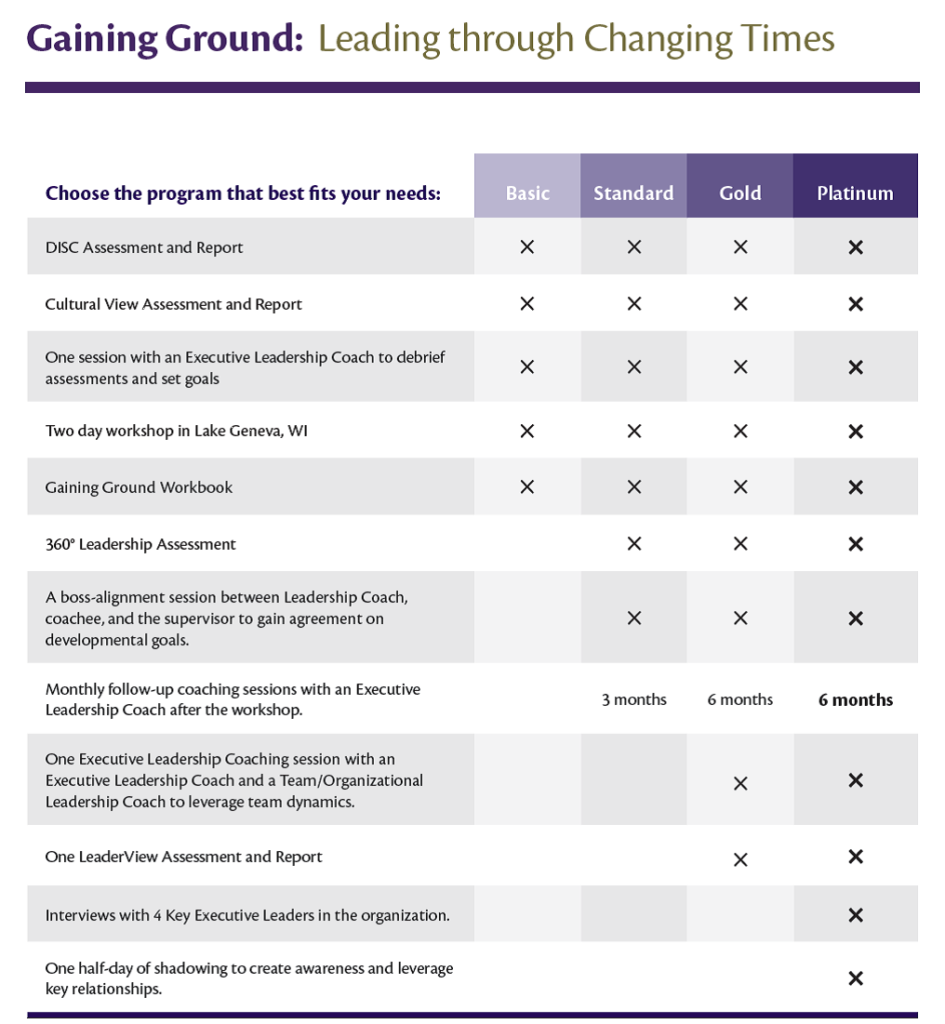 Testimonials for Gaining Ground
"This workshop was very valuable. I developed a vision to move forward on what I want without the fear that was getting in my way."
"I figured out new ways to create stronger relationships with my peers and direct reports which increase our productivity." I realized that I don't need to make everything happen by myself. Engaging others will ultimately help me to get to my end goal to achieve the productivity we were seeking."
"This program gave me the foundation to make the tough decisions I was avoiding. Once I made the tough decision many career opportunities opened up for me."
"If you want your vision to come to creation, you need to attend this workshop."
"This program helped energize me 100% to achieve the vision I thought was no longer achievable."
"This program was recharging and motivating for me. It helped me find new ways to become a stronger leader at work and at home."
Please Note
There are only 12 spots available.
Lodging and meals are paid by participants.
Participants who register and cannot attend will be charged for lodging not utilized.
Course cancellations are non-refundable. You may transfer your registration to the next course session.
All participants, including those who live locally, are requested to book accommodations on site.
Hotel rooms are non-refundable once hotel accommodations are requested.
We encourage participants to arrive the night before by 7:00 pm.
Request Call Back
Do you have questions about how Leading Visions can help your company? Send us an email and we'll get in touch shortly, or request  a call back — we would be delighted to speak.